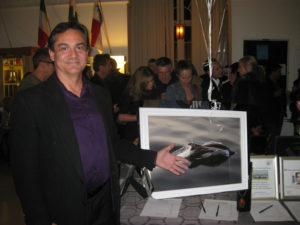 Unique Nature Gifts features the stunning photographic artwork of Michael Peak.  Michael is an Emmy Award winning television journalist.  He specializes in photographing whales, dolphins, wolves, and other beautiful wildlife.
Michael has been a photographer since the age of 19, and has photographed everything from nature and wildlife, to glamor, politics, and new kittens at the zoo.  His shots have appeared in numerous national television shows and publications.
Unique Nature Gifts offers a wide array of gifts featuring Michael's amazing pictures of dolphins, whales, wolves, birds, and other natural settings.  Some of the images you will find are bottlenose dolphins, common dolphins, blue whales, gray whales, and orcas. There are several images of beautiful birds, and the mysterious Alaskan gray wolf. Mix in some breath-taking scenic shots, and you will find images and unique gifts for just about everyone.
Michael is often traveling to new whale watching adventures.  His most recent trip was to San Ignacio Lagoon in Baja California, Mexico, where he was privileged to pet baby gray whales.  Several of those pictures are featured on this site. He leaves for South Africa in the spring to capture the famous "sardine run." He will be sharing many of those pictures, as well.
Check back frequently to see new gifts, posts and new pictures.  Have a prosperous day!